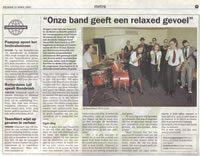 News 2001
Written on December 31, 2001 By karolien ter brake in news 2001, Nieuws
Oktober 2001
ACCES 2 AMSTERDAM


20 oktober Melkweg Access to Amsterdam : Ska & Reggae Showcase
2000 Venus Hill (NL)
2100 Les 100 Grammes de Têtes (F)
2200 The Dill Brothers (B)
2300 Rude Rich & the High Notes (NL)
2400 The Mahones (CDN)
We hebben een kleine pauze. Maar voor je het weet zijn we weer terug!!
Lees een recencie van Acces to Amsterdam http://columns.ink19.com/tof/upallnight Bob Pomeroy (U.S.A)
"Since I missed the Ska showcase on Friday, I started the evening of showcases at the Melkweg. When I arrived, Venus Hill were already playing. I was immediately captivated by the Amsterdam-based band. The band play an irreverent, personal interpretation of the tried and true ska sound. With three lead vocalists out front, Venus Hill had a bit of the Supremes in their skank. The horn section alternated hot licks and silly dance routines while the rhythm section nailed down a steady beat. The bloom is off the ska rose here in the States but Venus Hill reminded me just how much fun this sort of music can be. Venus Hill are a fun band. I found it impossible to watch this band and not be energized by the obvious joy these people find in playing music. The only thing that disappointed me about Venus Hill is that they won't have a CD out until later this year. (foto)
September 2001
INTERNATIONALE VERZAMEL CD – CITY A LIVE MET BEEF EN ABEL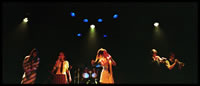 Onze CD komt steeds dichterbij, en we zullen verschijnen op een internationale verzamel cd.
Deze zal in september uitgebracht worden.
voor onze cd moeten we eerst weer wat geld verdienen 🙂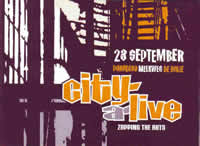 23 september spelen we op City-A-Live in de melkweg met o.a. Beef en Abel
Augustus 2001
ATMOSPHERE OPEN AIR
En 18 augustus het Atmosphere Open Air Festival in Neede wat Venus Hill zal openenen met o.a. Birgit, Brainpower en Greenlizard.
Lees Gelders dagblad
zie de foto's!!
http://www.atmosphere-events.nl/review_show2.asp (new)
Juli 2001
GROOTE WEIVER – ON(W)IJS FESTIVAL- MAASBOULEVARDFESTIVAL – ZOMERFEESTEN NIJMEGEN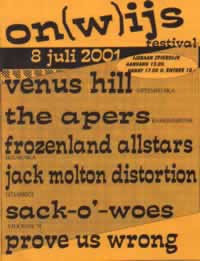 Het is zover, Lasse is terug naar huis, iets eerder dan gepland dus dit weekend zal hij er niet meer bij zijn 🙁 voorlopig gaan we door zonder toestenist. Er zijn wel leuke optredens op komst!
Dit weekend 7 juli eerst met GOH, Facehugger en the Nitwitz in Krommenie in de Groote Weiver aanvang = 20.00, leuk spelen met vrienden 🙂 !
Op zondag 8 juli op het ON (W) IJS Festival in Spierdijk op een ijsbaanveld. Samen met o.a. the Apers en een House Ska band. Wordt ook erg gezellig.. Leuk festival met vanaf 15.00 muziek, onze begintijd is half 10.
Verder spelen we volgende week 14 juli op het Maasboulevardfestival , samen met o.a. Peter Pan, Labirinto, en de Beatbusters met Def P !
en spelen in Nijmegen op de Zomerfeesten 19 juli (Vierdaagse feesten bij Bukkus buiten)
April 2001
PAASROCK – N201 – ARTIKEL IN METRO – STUDIOPLANNEN – LASSE TERUG NAAR FINLAND
Festival Paasrock :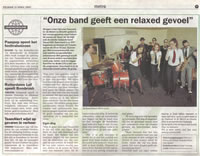 14 april Venus Hill Kane de Dijk Azotod, de Meern (Utrecht)! Lees Utrechts nieuwblad
We spelen 20 april in Aalsmeer: locatie N201
Daar wordt elke maand ska geprogrammeerd!
Vrijdag 13 april verschijnt er een artikel en foto in de METRO . Er zijn meer leuke dingen op komst!!! Bij shows staan al wat optredens onder voorbehoud….
Paasrock was een succes! 3000 man…. Erg veel publiek, we vielen in de smaak. Goed georganiseerd festival! N201 was ook spetterend. We kunnen alle ska bands aanraden daar te spelen. Het publiek kan goed een feestje bouwen daar!! Relaxte tent met leuke mensen 🙂 Voor degenen die ons gezien hebben in april en denken dat we twee zangeressen hebben…… Dit is tijdelijk. Door een operatie ben ik even uit de roulatie. Maar voor je het weet ben ik weer terug 🙂 en dan zingen we weer gewoon met zijn drieen 🙂
En er zijn concrete plannen gemaakt om de studio in te gaan! De plannen zijn er al heeeeeel lang 🙂 maar nu gaat het er echt van komen! Nieuwe opnames! Eindelijk……. We zijn nog wel op zoek naar geldschieters… Meer volgt!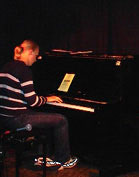 Helaas, het gaat gebeuren.. Onze toetsenist Lasse Leppänen gaat terug naar Finland. Hij was als professioneel toetsenist werkzaam in Finland en kwam een paar jaar in Nederland studeren aan de UvA. We hadden het geluk dat we met hem hebben kunnen werken gedurende de tijd dat hij in Nederland woonde. Nu gaat hij terug… Naast zijn arrangeerkwaliteiten kon hij als geen ander aanvoelen waar we met een nummer heen wilden. We gaan hem missen. Hij is er nog even, maar het betekent wel dat we misschien op zoek gaan naar een vervanger. Er zijn al geinteresseerden. Als je ook geinteresseerd bent kun je bellen 020-6235035 en inspreken..
Februari 2001
NOORDWIJK
We spelen 17 februari in Noordwijk : locatie JOIN ! Wordt een leuk feestje! Eerst een punkrock band, en dan Venus Hill! Dit is het laatste optreden van Saskia op saxofoon. Ze zou eerder weggaan, maar gelukkig voor ons kan ze nog een afscheidsoptreden hebben. Ze gaat een tijd naar Amerika voor haar studie.. Onze Eelco , onze eerste blazer die piloot aan het worden is en nu weer tijdelijk terug is in Nederland komt haar tijdelijk vervangen! 17 februari spelen we dus weer met 5 blazers! Helaas!! Het optreden in Grootebroek kan niet doorgaan wegens omstandigheden! Sorry In april spelen we weer.
Januari 2001
UTRECHT
Venus Hill in 'Tivoli' (Utrecht) in januari gaat helaas niet door. Maar….de kans is groot dat we in april richting Utrecht komen! Naar de Meern op Paasrock met Kane en de Dijk!